Your Local Tonawanda & Amherst, NY Heating Contractor
Are you looking for a heating contractor in the Western New York area to repair or service your furnace or boiler? D.H. Berry Inc. has been in business helping homeowners like you since 1929! We help homeowners in the North Tonawanda, Tonawanda, Amherst, and Niagara Falls, New York service area. We are a locally owned and operated business that wants to be the last contractor you need to call!

D.H. Berry Inc services and repairs all makes and models of furnaces and boilers. Let us determine if there is an inexpensive fix or repair BEFORE you invest in a new home heating system. If there is a need for a new system we understand all the ways to reduce the costs through our expert use of tax credits, rebates, and financing to ensure staying warm this Buffalo winter doesn't burn a hole in your pocket.
Our contractors that will visit your home are professional, clean & neat, and certified to service and install the latest energy saving equipment.
Furnace Repair
Let us inspect your furnace to make sure your energy costs will be managed properly this winter. An inefficient furnace can cause your heating bills to skyrocket. In addition to the higher monthly costs, a faulty furnace can become more damaged over time forcing you to invest in a new furnace before you want to. No one likes unpleasant surprises, let us take the guesswork out of your residential furnace today.
New Furnace Installation
When it's time to get a new furnace choose a company that will not only provide expert advice & professional installation but will be there for you to service your equipment in the future. D.H. Berry Inc is WNY's choice for residential furnace installation. We are an authorized Rheem dealer. Our Rheem furnaces are of the highest quality and energy efficiency and will ensure your new furnace will keep your home and family cozy and warm through the years.
Boiler Repair
When you need to have your home's hot water boiler inspected or repaired, D.H. Berry Inc's expert professionals service all makes and models of home boilers. Boiler manufacturers recommend yearly boiler maintenance to ensure your boiler will continue to work well when you need it the most. Give us a call today so that we can stop by your home to check or service your hot water boiler.
New Boiler Installation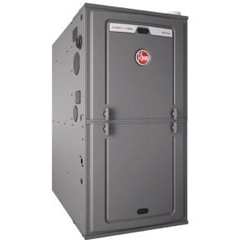 If for some reason it is time to get a new boiler, D.H. Berry Inc is also WNY's local choice for getting a new boiler installed in your home. We help you save money by guiding you through choices to make your boiler affordable through tax credits, rebates, and financing. We are an authorized dealer for Bosch residential boilers. They are designed to be extremely energy efficient and long lasting. Schedule an appointment with us today to ensure we can meet your home heating needs this winter.
Our Local Service Area
D.H. Berry Inc services the Western New York area including North Tonawanda, Tonawanda, Grand Island, Niagara Falls, Williamsville, Snyder, Clarence, East Amherst, and Amherst, New York.