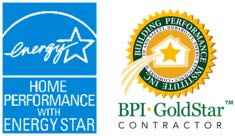 NYSERDA's Home Energy Assessment
September 14, 2016
To Our Valued Customers:
We are into our 13th year with the Home Performance with Energy Star Program and our affiliation with the Building Performance Institute. Over that period, we have completed over 1000 whole house projects and our customers can attest to the money they've saved on their heating bills.
The reason for this blog post is to share with you the opportunity to take advantage of NYSERDA's Home Energy Assessment at no cost to you and to inform you about the incentives being offered to date. The funds for this program come from a grant given to the State of New York by the Federal government. In these hard economical times we know money is tight but this may be a great opportunity to make those needed improvements, saving yearly on energy bills and taking advantage of the new incentives.
Simply fill in this application and we can give you a free energy audit at no obligation. We will produce a report that will show you cost, efficiency and products recommended. Some homeowners who may be buying or selling homes find the report we provide a great bargaining tool. NYSERDA is offering a 3.49% easily obtainable loan for up to $25,000 or a 50% subsidy, if income eligible. National Fuel Conservation Incentive - $400 for furnaces w/ECM motors and $700 for boilers. Federal Tax Credits may also be available.
Give us a call and let us show you how to save up to 40% a year! There is no risk or obligation. Or, visit our Energy Audits page for more information.